Meet the Dorset patients helping to heal the NHS
03 Jul 2017
2168 local residents shared their stories with Healthwatch Dorset last year to help diagnose where things aren't working and let doctors, nurses and care workers know when they are getting it right. They are part of a nationwide movement that has seen almost 300,000 people come forward over the last year to help those running frontline health and care services find ways to improve. Now a new #ItStartsWithYou campaign is being launched nationally to highlight the difference patient feedback can make.
From concerned mums to passionate pensioners, thousands of ordinary people all across the country are sharing their experiences to help hard-pressed hospitals, GP surgeries and care homes find ways to improve. Here are two Dorset people who have helped make a real difference through Healthwatch.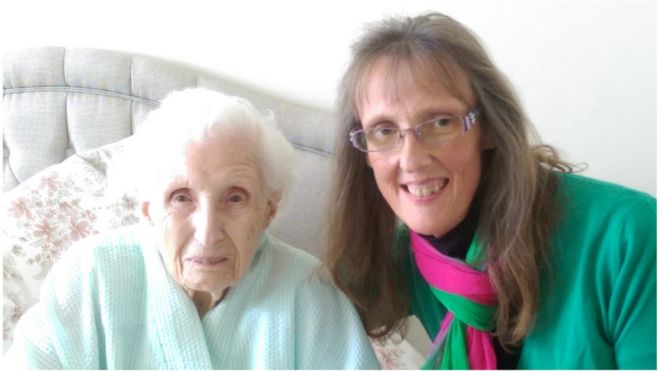 Rosetta West, a 96-year-old resident of Melton Court sheltered housing in Poole, waited for over four hours for an ambulance after a fall last year, during which time she remained in pain, on the floor, as safety protocols would not allow staff to lift her. Rosetta got in touch with Healthwatch Dorset who helped her and Melton Court duty manager, Fiona Smith, to bring her experience to the attention of local NHS bosses and MPs. Mrs. West's experience was discussed in Parliament and inspired the local ambulance service to design a new training and development programme for sheltered housing staff across the county in how to lift people after an incident – helping to reduce pressures on ambulance call-outs and ensure residents can be looked after in relative comfort should they fall.
Fiona Smith, Manager at Melton Court, told Healthwatch Dorset: "Thank you for all you have done. It certainly has made a 96-year-old lady feel proud of her amazing spirit and has highlighted the reality of what's going on in Dorset."
Joely Colmer, a local 24-year-old autism activist, has been helping Healthwatch Dorset with our children & young people's project, "Be Yourself: Everybody Else is Taken". An active and passionate member of the community, Joely has worked hard to encourage children and young people to speak up about what they think of local health and social care services. Joely has shared her own, often painful experiences, to give others the courage to share their story. Her blog has inspired over 600 children and young people to take part in the Healthwatch project. Joely says, "I am far from what is considered normal, but I don't care, being different is fabulous – there is nothing wrong with it, I would not change my disability for the world. My gift is Asperger's Syndrome."
Healthwatch Dorset invited health and care leaders to an event in April 2017 at AFC Bournemouth's Vitality Stadium, to celebrate our children & young people's project and Joely was the main speaker at the event. She made a real impact on everyone attending through her powerful speech about her experiences growing up with Asperger's Syndrome and football legend Steve Fletcher presented her with an award. Thanks to Joely, and everyone who took part in the project, health and care professionals in Dorset now know more about the issues affecting local children and young people.
Rosetta West and Joely Colmer have both been shortlisted by Healthwatch England for their new national "It Starts With You" award. The winner will be announced on July 6th.
Recent
16 Aug 2017
Earlier this year, some of our volunteers acted as "mystery shoppers" and got in touch with all GP practices in Dorset, Poole and Bournemouth. They wanted to find out what guidance and information is provided by local GP practices about how to register as a patient with them, how easy it is to get...
10 Aug 2017
Between January 2016 and April 2017, local Healthwatch staff and volunteers across England visited 197 care homes across 63 different local authority areas to find out what day to day life is really like for many of those living in care homes. (Healthwatch Dorset conducted its own series of visits...